CRANE 'Making it Better' learning event: Summary – February 2022
The CRANE 2021 Annual Report applied the new Outlier Policy to identify cleft services as positive or negative outliers in relation to consent verification, data completeness, and process and outcome indicators. This process allowed teams to reflect on the data captured by all teams and improve the reliability of the outcomes that are presented for all stakeholders – download the 'Responses to outlier process' document published alongside the report for detail on this.
Recognizing the benefits and challenges of implementing the new outlier process for the first time in late 2021, the CRANE project team hosted a 'Making It Better' session on 7 February 2022.
This session was open to all cleft service team members, and particularly relevant to those involved in submission of data to the CRANE Database for yearly reporting and for quarterly SSQ Dashboard submissions.
Click on the blue button and images below to download the summary document of the event and presentation slides.
CRANE 'Making it Better' Learning event: Summary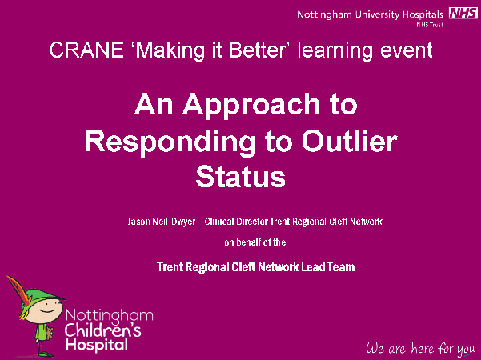 Cleft services are welcome to contact us with queries on this topic or to provide further feedback via crane@rcseng.ac.uk.